Norway summer holidays starts in Nusfjord, Lofoten, part 2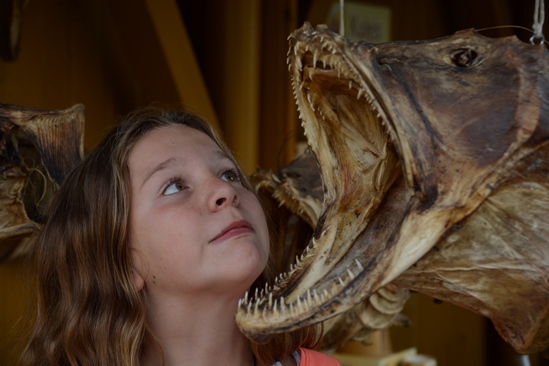 Nusfjord, the beautifull little harbour village with its typical Rorbuer houses, lies enclosed in a fjord on the southside of the the Lofoten. It is an ancient Norwegian village where fishing has always been at the center of the activities. Nusfjord today is an active center where much of the traditional acivities are still being displayed; one can see it as an "open air museum". As it lies pretty much halfway the Lofoten islands it offers nice opportunities to visit different cities and musea in the area as well.
.
In the village one can visit the different houses where the past is being displayed. An old fishery museum, a restaurant, an ancient store (which still serves as mini supermarket today, very handy) and the smith. Different fishing boats are still lying in the harbour which together with the circular placement of the harbour, the docks and the Rorbuer gives it an amazing atmosphere! The staff is extremely service orientated and knows much about fishing and recent successes so they can really help to get you started.
.
The Rorbuer are an experience in itself. When we entered ours we were struck by the fact that in the hallway we could actually see the seawater under us through the wooden floor….. But that was only the hallway! Sleeping rooms and living room are nice and bring all the equipment one needs. And it is really special to open your front door and look directly into the harbour and see your fishing boat only 50 metres away! From the house the kids enjoyed catching crab in the harbour with a piece of fish on a specially designed crab rod!
The following pictures give a feel fort he beautifull village and the Rorbuer:
.
.
.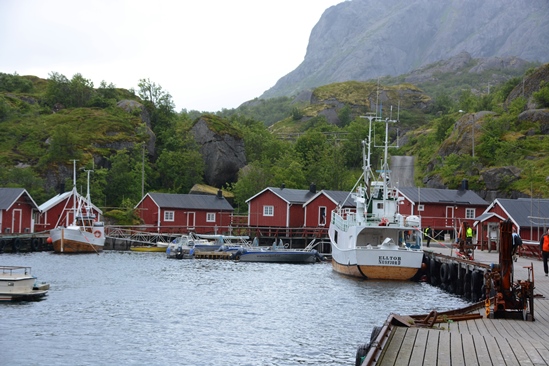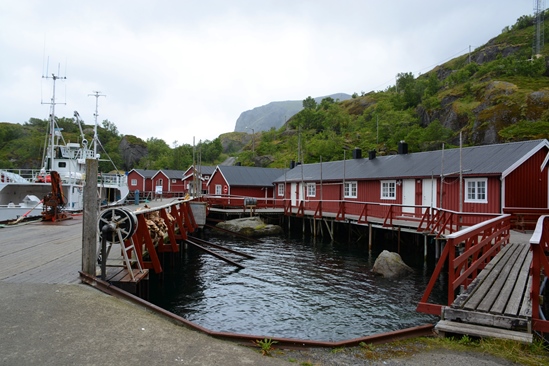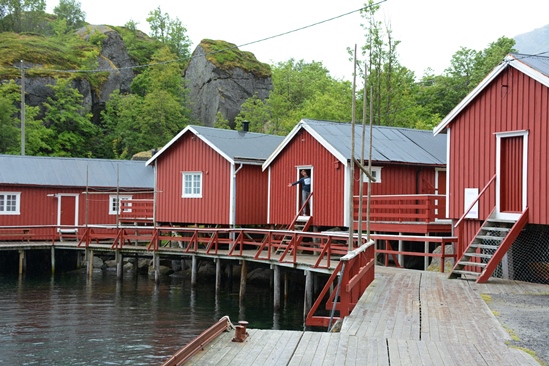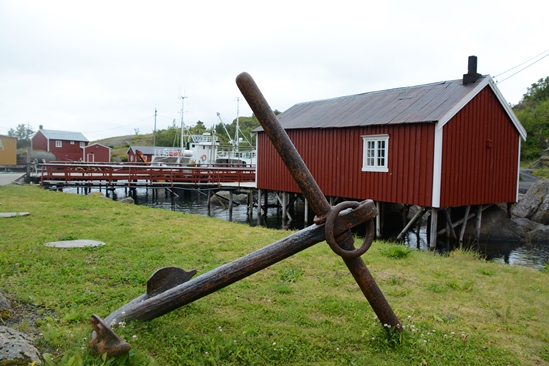 .
.
.
The nature of the Lofoten is breathtaking. We used our rental car to make several tours in the area. And when you do so, it almost looks as if behind every corner there is another "postal card" waiting for you to be photograhed.  On top of that, in summertime, nature is filled with flowers and also the activity of birds is quite high. We had some fantastic close encounters with sea eagles for example! Also the sea offers some nice suprises: while fishing with my son we had a close encounter with four killer whales, hunting close to the shore, amazing! More of that below in this article.
.
Directly from Nusfjord village one can make several interesting hikes and as a family we took that opportunity to enjoy and experience the nature of the Lofoten! The sea water is crystal clear and combined with the tidal effects it made the sightings we had one to never forget.
.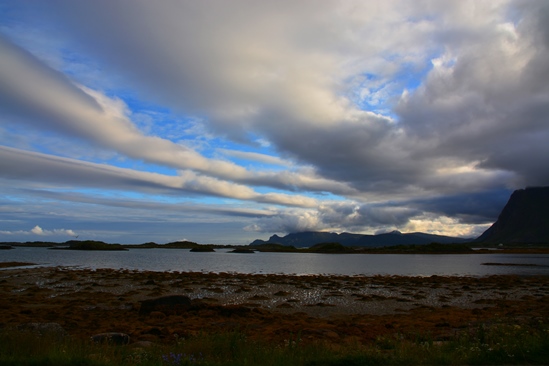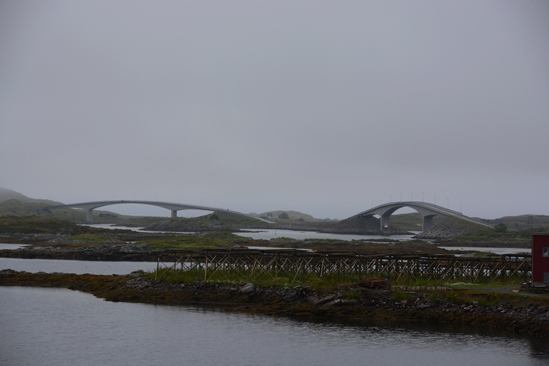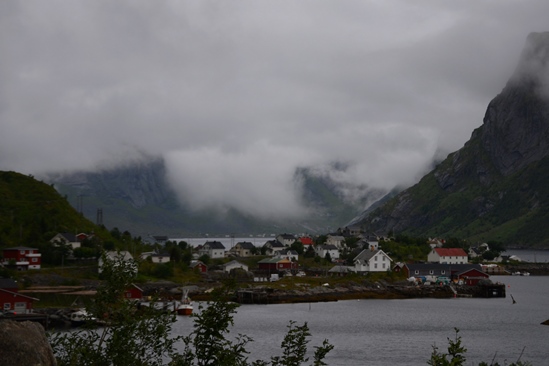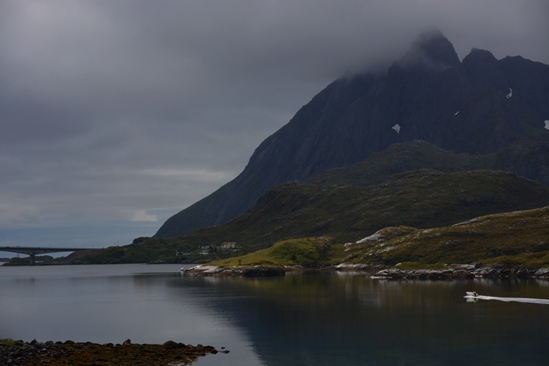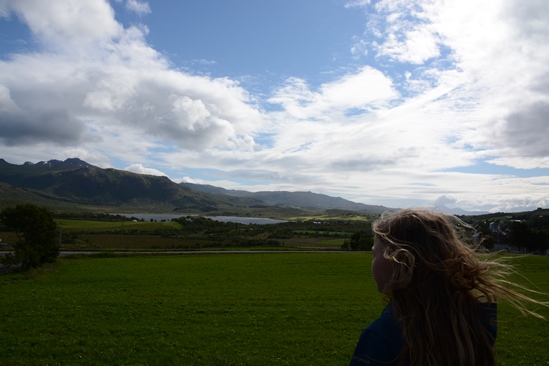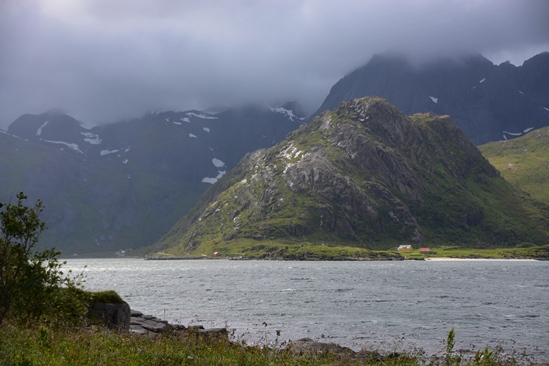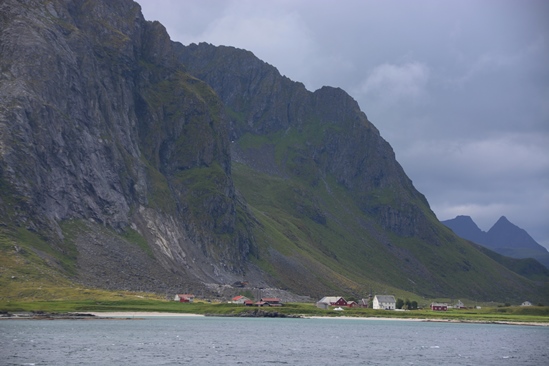 .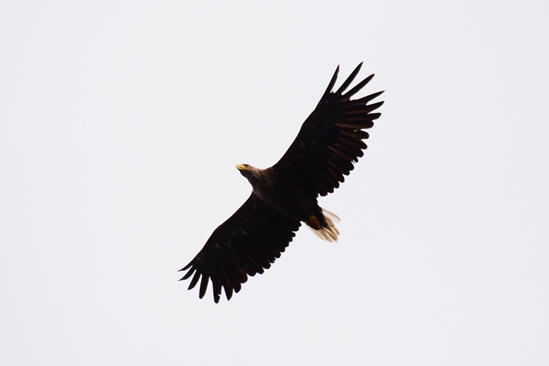 .
.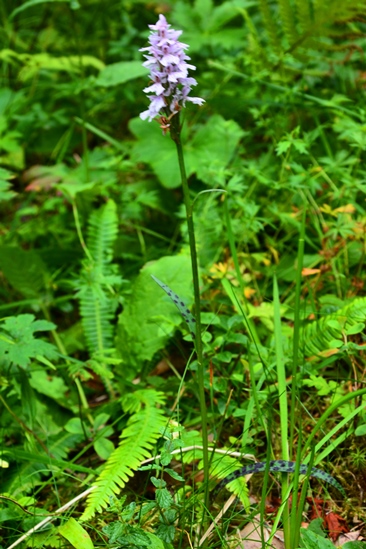 .
.
Culturally the Lofoten offers a number of activities one can undertake. We had a lot of fun visiting the Viking museum, some old villages (Stovagan), the aquarium including information on salmon breeding, we visited the skrei mueum in A and also the bigger places like Evenes and Solvaer are worth a visit. So if you could get caught by the wind and can't go out fishing there is still a lot to do and to enjoy!
.
.
.
.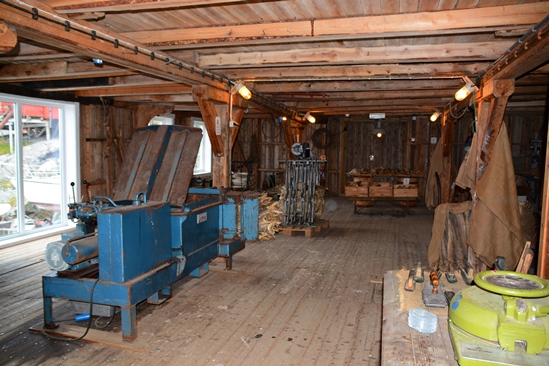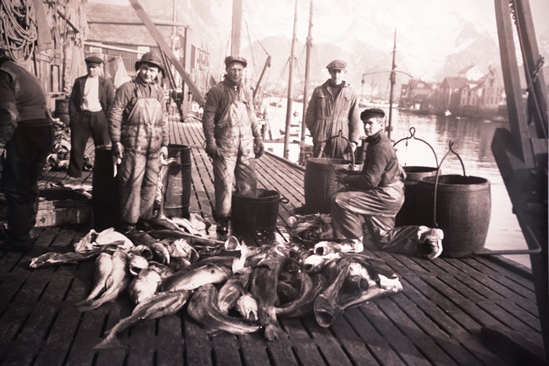 .
.
.
.
The fishing!
Our week in Nusfjord we rent a boat for three days. The boats are from the well knows Kvaerno brand. Stable and solid. Equipped with a Garmin fishfinder/GPS combo. The staff provides you with rescue vests and if you wish you can also rent safety suits, nice and warm. Petrol is being provided by the staff, at the end of the day they even fill up the tanks for you! Going out fishing means preparation! Because the options out of Nusfjord are numerous. Leaving the Nusfjord fjord you can directly fish in the opening of the fjord or alongside the coast eastbound. You can also choose to make a 30minute run westboud and then your are in the Nappstraumen, the fjord known for its abundancy of halibut, and big ones too! You can also choose to run straight into the ocean and after 30minutes you find different underwater islands. Eastbound again other fjords can be found where all of them have several good halibut places. So again: you have to decide and prepare, there is just too much opportunity!
As we were there in summertime and as I fished with kids I decided to go for the option to catch much fish and maybe a big one instead of the other way round. That keeps up the spirit with kids much better. I therefore fished with lighter tackle and at shallower waters. Fish was abundantly available. EVERYWHERE we fished we caught cod, colefish, mackerel, lum and leng. And some of them good sizes! What we did not catch was halibut. I had two bites which I missed. But again, I choose to go for much fish and did not spend too much time on the shallower sand plates to see if we could catch one. We preferred to go back to waters between 40 and 80 metres where we were able to catch a couple of hundreds of fish in these days! It shows on the Savage Gear sandeels which were again favourite and were demolished after three days….
Also with the whole family we went out one evening and had a lot of fun together. While sea eagles were flying around and one even took a fish out of the water closeby the boat! In this week we had to change one day of fishing because of storm. And where the other days were nice and calm, this one day shows you have to remain very alert in these areas. The wind came out of nowhere and blew like crazy for many hours sweeping up the waves big time!
What was fun as well was the fishing from the rocks. With the kids during the (long) evenings we spent hours fishing for flounders and smaller cod and cole fish. Lots of fun where my son learned my daughter how to cast and catch fish. A view I just looked at and enjoyed!
Some fishing pictures!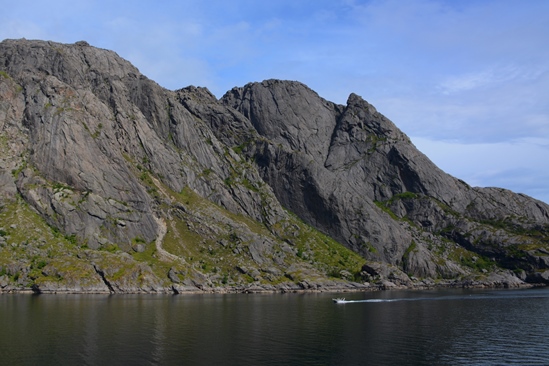 .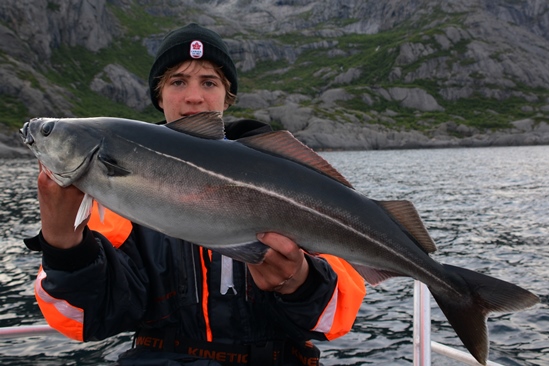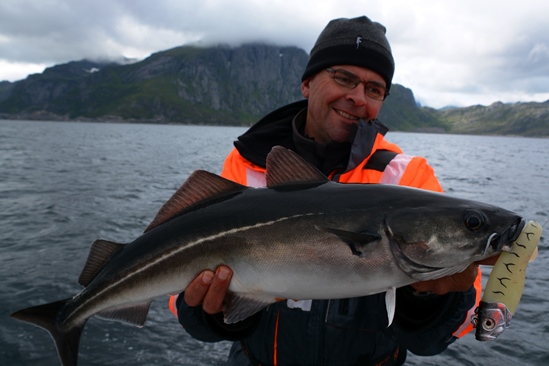 .
.
.
.
.
.
KILLER WHALES!!
And then there was the (literally) big bonus! Whilst fishing with my son along the coastline he all of a sudden claims to spot a killer whale. When I turn around I see a small fin disappear underwater and I tell him this was probably a smaller dolphin. "No dad," he says "I definitely saw a very big fin and I saw the white on its face!" So I kept looking and soon we were both suprised by FOUR (!) killer whales that started to hunt in our area, trying to catch fish along the rocky coastline! I must say I had double feelings on this. On one hand I realised we were witnessing something many people dream off, on the other hand, being out on the sea in a boat that is only half the size of these enormous fish which are hunting is not without risk! Fortunately my new Nikon camara with its 300mm telelens came in nicely. We could stay at an appropriate distance taking pictures whilst enjoying the fish! What a sight! And it was fantastic to see how they hunted together driving up the fish. After taking many pictures the fish disappeared out of sight and we stayed there, completely overwhelmed by what we noticed.
A day later when fishing my son mentioned whether we would see them again. And believe it or not; that moment they were there again! Swimming the opposite direction and not hunting this time. Just following the coastline. Again we took a number of photos and boated along with them enjoying the sound of air they put out when they come up. What an experience!
Enjoy the photos!
.
.
.
.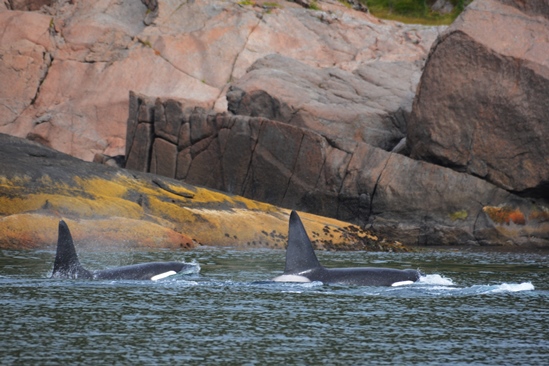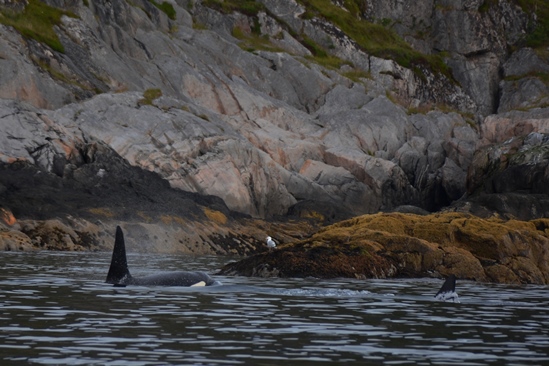 .
.
.
.
Conclusion:
Nusfjord is a fantastic Norwegian village completely maintained in traditional Norwegian style. It is located in the middle of the wonderfull Lofoten islands offering different opportunities for visits in the area. The fishing out of Nusfjord is fantastic as it offers many opportunities for different kind of fish and different kind of locations where you can aim fort he species you came for. That combined with a service orientated kind staff makes it a place one should definitely visit one day! Visreis.nl can help you to set that up for you.
.
.
Our trip continued. From the Lofoten we took the ferry from the Lofoten to Bodo, back to mainland. Here we would stay another week before flying home. In the next article I will cover that leg of our journey!
John Smit
Gerelateerde artikelen: