Västervik, Sweden, part 3; try it yourself!?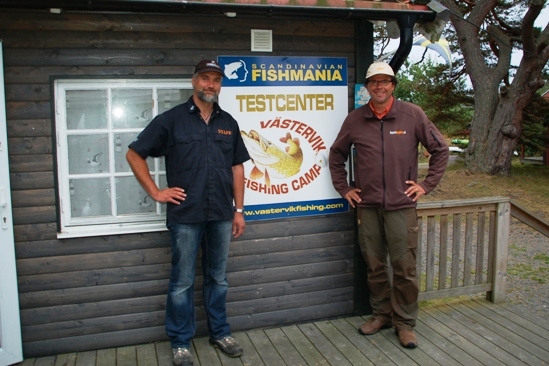 Finishing my articles on my fishing experience in Västervik I want to describe in this article how you could be fishing from the Västervik Fishing Camp yourself.
Where is it and how do you get there?
The Västervik Fishing Camp (www.fishingcamps.se) is located approximately 250km south of Stockholm. You get there either by car of by plane where you have to fly into Stockholm. At the airport you can rent a car or van.
Obviously the advantage of your own car is to be able to bring more gear. Whereas the plane is much faster when you're from outside Sweden.
What does the Fishing Camp offer? The Fishing Camp is "connected" with the Lysingsbadet Holiday Center on the same location. Through this the Fishing Camp can offer full packages, including:
– housing in one the holiday houses
– guiding service – boat rental
– all materials needed to fish
– a shop with a wide variety of fishing equipment.
.
.
When you book a guided trip the guide will basically prepare and take care of everything, including drinks and meals.
When you rent a boat yourself you will need to either rent materials or take care of your own.
Besides this, for family activity, the Fishing Camps also rents out canoes and they are preparing a program with different family activities including visits to relevant and interesting cities and musea in the area. Like the Astrid Lindgren parc (Pippi Langkous!) and the village of Vimmerby. Or pay a visit to Västervik village, a lively and lovely little town with several shops, authentic Swedish houses, a nice harbor side and an impressive church.
.
.
.
.
.
.
.
And obviously one can make great family trips with the rental boat too and have a nice picknick on one of the islands. Or make a nice walk over on the several small islands that neighbor the camp and can be accessed over wooden bridges.
.
.
.
The boats:
The boat I fished on with George is a fantastic platform for this kind of fishing. It is a Simax 620 with a 140HP Suzuki outboard. This boat is the one you use when you book a guided trip.
The rental boats are manufactured by Crescent, Ornvik and Uttern and are around 4m50 long. They can either be rent with a 25HP or 15HP. This makes them run fast enough to cover one sector (A,B,C, see other articles) during one day of fishing.
.
The prices can be found on the website but in 2012 a rental boat costs around Euro 200,- per day. This includes (!) petrol, insurance and on top of that all boats are provided with GPS. The "own risk" on the insurance is about Euro 300,- which is relatively low compared to other countries and particularly low when you consider the very complex area you fish in.
You do not need a Certificate proving you are capable steering a boat.
Fishing, fishing  techniques and regulations:
The fishing in this area is mostly focused on pike fishing with perch on the side. Basically, if there is no ice you can fish for them year round. Obviously some periods are better than others and according to George spring (April, May, June, depending on the disappearance of the ice) is best and things get more difficult when the water temperature is above 12degrees Celsius (5-12 is optimal). George also advises to avoid the periods of full moon. He kept a calendar the last three years where he registered all fishing result s of all trips. It resulted in a calendar that almost predicts green and red time zones for fishing!
Pike sizes vary seriously. A pike of above 90cm is a good fish in this area. Most pike are 50-75cm. Anything below that is called a "carrot" and yes, you will catch these too. But if you catch a few dozen of them it surely counts for action!
The water is very clear. And salty. So where in freshwater pike hides between plants here pike hides between seaweed….. And between rocks that lay spread over the bottom. Most of the time close to the shore and also on what George calls "underwater islands". You either drift or anchor close to these areas or on top of an underwater island and starting casting your lures.
Lures are mostly used (jerkbait, shad, spinner, slider, wobbler). We fished mostly with the amazing jerkbaits from Hard Baits, a company from Russia that manufactures these lures. Personally I think live or dead bait can work very well too but this is not a technique the camp stimulates.  Use medium to hard jerkbait rods, medium size reels and braided line with strong leaders. And make sure your equipment is resistant to saltwater!
.
But also flyfishing for pike is becoming more practiced and from Holland Bertus Rozemeijer will put some extra effort into this kind of fishing in this area.
The whole are is strictly Catch & Release, according to the Fishing Camp rules. You do not need a fishing license (but please, always check the current legislation before you go out fishing!). Trolling in the whole area is forbidden!
Competition:
The Fishing Camp also organizes the well known European Pike Challenge (EPC). This is held once per year in October with specific regulations and visited by fishing teams from over 10 countries in Europe! The details of this competition can also be found on the website www.fishingcamps.se.

.
"Why would anyone need to come fishing in Västervik?"
This question I asked George and his answer was as follows: "It is the combination of an unbelievable amount of fish and an area that is unbelievable in its beauty. On top of that the area is very accessible from all over Europe. It also provides a situation that basically with any type of weather you can go out fishing. The boats are setup in a way that they can cover the different fishing sectors nicely. The Fishing Camp is positioned very centrally in this area!"
.
I agree with George. I was also very impressed. And the professionalism of George and the people in the Fishing Camp combined with their actual knowledge and modern equipment definitely makes it a place worth visiting!
John Smit
Gerelateerde artikelen: