Västervik, Sweden; a Nature Playstation, part 1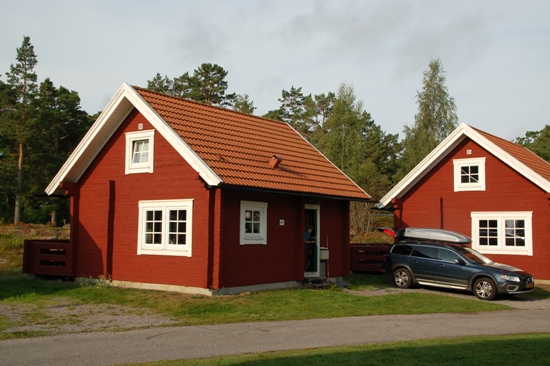 Catching pike in salty waters? Watching pike take your jerkbait in crystal clear water, between jellyfish? See more than 100 islands in one day? It can! Meet the East Coast of Sweden, around 300km south of the capital Stockholm. It is here where you book a guide or rent a boat at the Västervik Fishing Camp and start to explore this "Nature Playstation"!
As part of our family summer holidays we landed in Västervik in Sweden, after a trip that started in Holland, through Germany, into Sweden, into Finland and then back into Sweden: to Västervik. After which we went home. I will write about this trip in a separate article as it included some very nice (fishing) areas but definitely Västervik Fishing Camp stood out and therefore I start this time with the end of the holidays, not the beginning! In two articles I will cover the fishing I experienced. In the third article I will go into more detail on this location as an option for your fishing holidays when you wish to enjoy this area yourself.
On August 26 2012 we arrive at camping Lysingsbadet. A large holiday parc just outside Västervik. This is where we booked a cottage for 6 nights to enjoy the area and the facilities on and around the camping. The weather is wonderful as it has been for the entire of our holidays. And to my pleasant surprise I find out that the location to book a guide and/or rent a boat and get inquiries on fishing in the area, the Västervik Fishing Camp, is basically "just around the corner" on the same premises. I walk over their location and run into one of the owners, Dusko, who gives me some necessary information and asks me to come back in the afternoon as George, one of the guides, will then be back in the camp and will be able to hand over some more actual information on the fishing.
.
.
That afternoon I meet George. Who has been visiting the camp since 1999 year on year. Firstly as a tourist but the last years as a full time guide in the Camp taking out customers 5 days a week for the whole of season. A season that starts when the ice breaks up in Spring (somewhere end of March) till the ice comes in again (somewhere in December). George tells me there are different options to go out fishing in the area. Basically the split is to decide whether I rent a boat myself or go out with George as a guide. And then to decide where to fish. And that is probably the toughest choice I have ever looked at. Because: how do you decide where to fish in an area that is split in three sectors A,B and C. With each of them covering more than a hundred of kilometers of shoreline, thousands of structures in the water, depths varying form one meter to around 50 meters or more and many kilometers of boating to reach some of the places..…… Having only two days to fish the conclusion is simple; I need someone who knows where to take me and get me started. George and I agree on two days fishing for that week!
.
Fishing day 1.
George and I meet at the store in the Camp on Wednesday morning. In this period, when the water is warmer than 12degrees Celsius, fishing is more difficult and bigger fish tend to be in deeper waters. With the information of other fishermen that week and his own detailed registration of a couple of years of fishing results of all fishermen from the camp, George suggests to start in "sector A", the long fjord towards Gambleby that passes Västervik. I can only agree and when we have loaded fishing equipment, food and drinks and having put on our lifejackets we set off to sea….. uhhh……. or was it lake………? The mix of salt and fresh water already gets me confused……
After a nice boat ride of around 20-25km we arrive at the spots George wants to fish. By then we have passed Västervik and have seen several islands and views of the area. The aim is to cast (very!) close to the shoreline, the reets, with jerkbaits and then retrieve these over waters that becomes deep reasonably close to the shore. In this way we cover both the side and the deeper waters.
George recommends to use blue coloured jerkbaits as this colour seems to work quite well in this area. George demonstrates the performance of some jerkbaits of the brand "Hard Baits", www.hardbaits.ru. Beautifully designed Russian jerkbaits with a magnificent action: jerking these baits they do not only waggle&wobble but also turn completely upside down and back on each jerk. You have to practice a little but once you got it, the performance is amazing!
.
After casting a few spots we start to hit the first fish. Aggressive attacks hit the baits and sometimes they attack the bait two or three times.  The fish are not big but they fight like crazy. And it is actually quite enjoyable: fishing in a beautiful landscape, in wonderful weather, casting great jerkbaits and getting bites from angry or nervous pike. Nice!
.
Somewhere in the middle of the day George decides to change tactics. He wants to explore what he calls "underwater islands" . Basically, these are areas underwater that stand up compared to the area around forming, maybe you could say an "underwater hill". George has also fished in Holland quite a lot and when I ask him whether we will anchor outside the island and cast TOWARDS it, he laughs and says that that mistake is made by many fishermen in this area. Here you catch fish by anchoring in the middle of the island and cast towards the outside!
Still, it does not bring much, it is quiet. So we decide to get back to the shores where we quickly catch some fish again. We also drift over an enormous plateau covered with plants and try a last spot where a rocky bottom is supposed to deliver some nice fish. George knows to trick a nice fish over this area.
.
A beautifull boat ride returns us to the Fishing Camp where we finish the day and agree to see other again two days later for the second day.
John Smit
Gerelateerde artikelen: